A non-dependable platform where users have full control of their respective assets without being governed by any regulations or bodies.
Why Decentralized Finance Services?
Deficiencies such as governmental control, delayed transactions, fraudulent activities, challenges, inevitable price fluctuations, and unavailable financial institutions plague the old, outdated financial system.
DeFi blockchain development uses innovative automated systems and technology to modify traditional economic services, including financial institutions, capital financing, buying and selling, and more. On a DeFi app, the peer-to-peer approach allows individual users to keep control of their assets while eliminating third-party involvement in the transaction.
Our Decentralized Finance (DeFi) Services Are
Decentralized Wallet Development:
HSP Holding offers a decentralized finance wallet app development that allows your users complete control over their assets. Our DeFi team creates a wallet for your platform that gives a premium DeFi dashboard and features that include a high level of security, user-friendliness, reliability, and excellent performance.
Decentralized Coin Development:
As the case may be, our DeFi coin and token developers take up the project and develop a fully processed coin or token. We assist you in converting your underutilized DeFi crypto into an investment that will earn you a significant return on investment in the future, allowing investors to leverage their fortune and make the best use of their digital assets. We will help you develop a powerful token based on blockchain technology.
DeFi exchange development
Our innovative team creates an exchange platform for our users that cannot be controlled by any authority but only by the users. It gives parties involved in the transaction the ability to be independent of any regulations and transact freely. The decentralized exchange allows users to have total control over their assets. Our software is the best, and we focus on quality delivery always.
Decentralized lending platform development
We are business-oriented with adequate knowledge of financial analysis. We understand people's needs and try as much as possible to meet them. HSP holding helps users to get support by making DeFi flash loans available for users who lack access to funds to bridge the gap from those who don't have access to financial services under the traditional platform at a reasonable DeFi lending rate.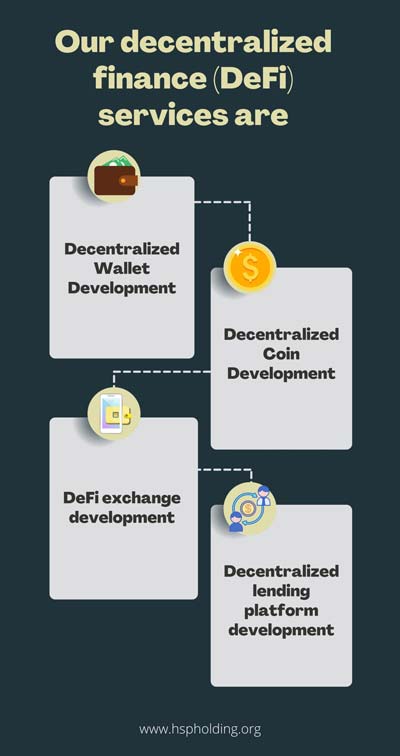 The Advantages Of Decentralized Finance And Development Services
DeFi safety is 100% guaranteed.
We value your data and your privacy. Decentralized finance is built on a blockchain network, which gives no chance of breaching the database and avoids an unexpected shutdown at all costs.
Decentralized finance is automatic in nature through the use of smart contracts. It allows users to enter a transaction without being monitored by a third party and without involving an intermediary. Everything is being programmed, and all the processes are being done automatically.
DeFi allows users to save their assets in their respective wallets that any authority cannot control. It gives all DeFi users control over their assets.