DeFi Development | A non-dependable platform where users have full control of their respective assets without being governed by any regulations or bodies.
Why Decentralized Finance Services | DeFi Development
Imagine a world where you have complete control over your assets, free from the shackles of government regulations and centralized bodies. Welcome to the world of Decentralized Finance (DeFi). 
DeFi blockchain development is revolutionizing traditional economic services, such as financial institutions and capital financing, by leveraging innovative automated systems and technology. With a peer-to-peer approach, DeFi allows individuals to keep control of their assets and eliminates the need for third-party involvement in transactions. 
At HSP Holding, we offer a wide range of DeFi services to help you harness the power of decentralization. Our services include: 
Decentralized Wallet Development: Our DeFi team creates a premium DeFi wallet app that gives users complete control over their assets with high security, user-friendliness, reliability, and excellent performance.
Our Decentralized Finance | DeFi development Services Are
Decentralized Wallet Development
HSP Holding offers a decentralized finance wallet app development that allows your users complete control over their assets. Our DeFi team creates a wallet for your platform that gives a premium DeFi dashboard and features that include a high level of security, user-friendliness, reliability, and excellent performance.
Decentralized Coin Development
As the case may be, our DeFi coin and token developers take up the project and develop a fully processed coin or token. We assist you in converting your underutilized DeFi crypto into an investment that will earn you a significant return on investment in the future, allowing investors to leverage their fortune and make the best use of their digital assets. We will help you develop a powerful token based on blockchain technology.
DeFi exchange development
Our innovative team creates an exchange platform for our users that cannot be controlled by any authority but only by the users. It allows parties involved in the transaction to be independent of any regulations and transact freely. The decentralized exchange allows users to have total control over their assets. Our software is the best, and we focus on quality delivery always.
Decentralized lending platform development
We are business-oriented with adequate knowledge of financial analysis. We understand people's needs and try as much as possible to meet them. HSP holding helps users to get support by making DeFi flash loans available for users who lack access to funds to bridge the gap from those who don't have access to financial services under the traditional platform at a reasonable DeFi lending rate.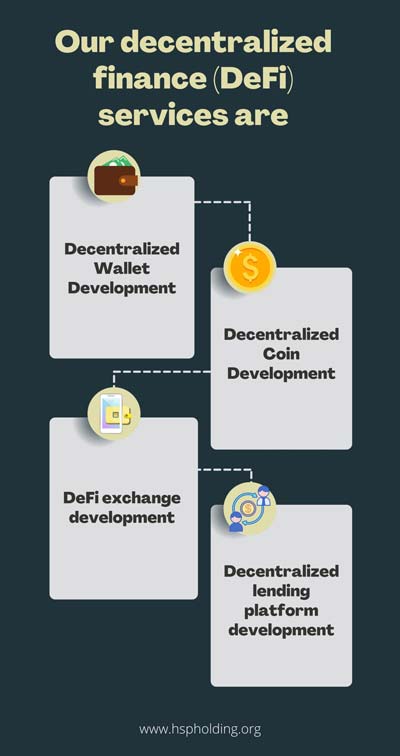 The Advantages Of Decentralized Finance And DeFi Development Services
DeFi safety is 100% guaranteed.
We value your data and your privacy. Decentralized finance is built on a blockchain network, which gives no chance of breaching the database and avoids an unexpected shutdown at all costs.
Decentralized finance is automatic in nature through the use of smart contracts. It allows users to enter a transaction without being monitored by a third party and without involving an intermediary. Everything is being programmed, and all the processes are being done automatically.
DeFi allows users to save their assets in their respective wallets that any authority cannot control. It gives all DeFi users control over their assets.
Join the DeFi revolution and take control of your financial future with HSP Holding's DeFi services.
FAQ
What are your services in DeFi Development?
DeFi development, including decentralized finance applications, IDO and ICO platform development, DEX and CEX development, lending and borrowing platforms, staking platforms, and more.
How do you guarantee product quality?
At HSP Holding, we guarantee product quality through a multi-step process that includes the following: 1. Requirements gathering and analysis: We work closely with our clients to understand their specific needs and goals for the project, which helps us to create a clear and comprehensive project plan. 2. Prototyping and design: Before beginning development, we create a working prototype of the product, which allows our clients to see and test the product before it's completed. 3. Quality assurance and testing: Our team of QA engineers thoroughly tests the product at various stages of development to ensure that it meets all specifications and requirements. 4. Continuous improvement: Our software development experts continuously monitor and evaluate the product after it's released to ensure it performs optimally. 5. Warranty and support: We provide a warranty period for our products and offer ongoing support and maintenance to ensure they perform at the highest level. Following these steps ensures our clients receive high-quality products that meet their needs and exceed their expectations.
Check out our other services
Fill out and submit the form below if you think your idea is worth considering by HSP Holdings experts
If you think our projects are worth investing, drop us a line so we can call you for further talk.